Polish Lowland Sheepdog - pons - pon the dog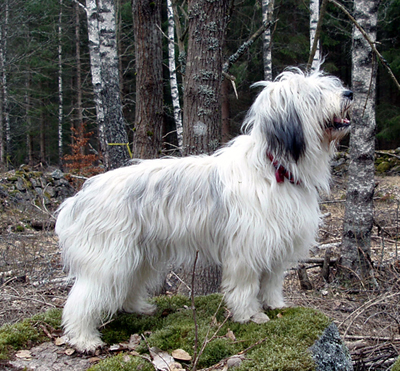 Kennel Ambergini's , Sweden
http://www.amberginis.com/index2.html
International Recipe Exchange

We are featuring Summer Salsa recipes this month
Salsa Picante

Ingredients:

3 Jalapeno peppers

3 Tomatillos

1 bn Green onions; cut into 1"

-pieces

2 md Tomatoes; cored and cut into

-eights

1 md Avocado; peeled and cut into

-1" pieces

15 Cilantro sprigs, fresh

4 Limes, juice of; aprx 1/2 c.

1/2 c Oil, olive

1 ts Garlic powder

1 ts Cumin, ground

1 ts Salt

pn Sugar

Instructions:

Place peppers on a baking sheet; broil 3 to 4 inches from heat, turning often with tongs, until blistered on all sides. Immediately place peppers in a plastic bag; fasten securely, and let steam 10 to 15 minutes. Remove peel of each pepper.

Peachy Salsa

Ingredients:

1/3 c Cilantro, lightly packed
2 c Peaches, peeled & diced
2 c Tomatoes, diced
1 ts Lemon juice
1 pn Black pepper
1/4 ts Salt
1/2 ts Garlic, crushed
1 ts Olive oil
2 ts Balsamic vinegar
Cayenne, to taste


Instructions:

Place all ingredients in a blender or a food processor & process for a few seconds. Serve immediately over hot, fresh pasta or refirgerate until ready to serve.

Mango Salsa

Ingredients:

2 Mangos, ripe; peeled & chopped

1 md Red onion; chopped

1/4 c Fresh cilantro leaves

4 Fresh jalapenos; chopped

1 Lime; juiced, about 2 tbs.,

;with rind grated

ds Salt

Instructions:

Mix together and let chill for at least an hour!

Corn Salsa

Ingredients:

11 oz Corn, whole kernel
-- drained
2 md Tomatoes, Roma, seeded,
-- diced
4 oz Chilies, green, chopped
-- undrained
1/4 c Onions, green, sliced
2 tb Juice, lemon
1 tb Cilantro, minced
1 sm Pepper, Jalapeno, finely
-- chopped
1 sm Garlic, clove, minced
1/4 ts Salt


Instructions:

In a small bowl, mix together all of the ingredients, and set aside.