Polish Lowland Sheepdog - pons - pon the dog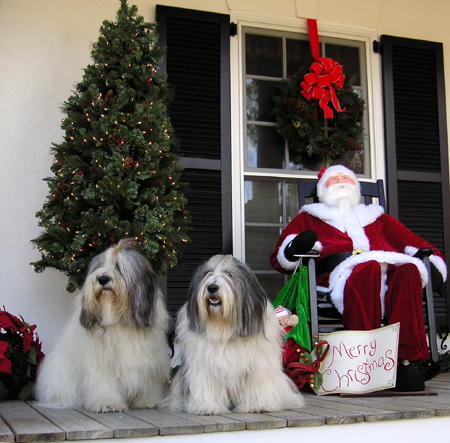 White Star PONS (CH Winston & CH Patton) owned by Dr.Richard & Debra Roth), Georgia

International Recipe Exchange

We are featuring dumpling recipes this month
Kluski (dumplings for soup) submitted by M. DeVito

Ingredients:

2 eggs

1/4 cup milk

1 cup flour

1/2 tsp salt

Dash of pepper

Directions:

Beat eggs with milk in mixing bowl. Add flour, salt and pepper and mix until thoroughly combined. Dip long-handled tsp into simmering soup, then dip spoon into kluski batter to pick up 1/2 tsp of batter. Immediately plunge into hot soup. Batter will release into soup to create kluski. Continue until all batter is used. Cook additional 5 minutes in barley boiling soup. Recipe can be doubled for large amount of soup. Great with both chicken soup or pea soup.

1 qt Fresh or frozen (loose-pack) blackberries
1 c Plus 1 tablespoon sugar,
1 Divided 3l4 teaspoon salt, divided
1/2 ts Lemon extract
1 1/2 c All-purpose flour
2 ts Baking powder
1/4 ts Ground nutmeg
2/3 c Milk
Cream or whipped cream, optional


In a Dutch oven, combine the blackberries, 1 cup sugar, 1/4 teaspoon salt and lemon extract. Bring to a boil; reduce heat and simmer for 5 minutes. Meanwhile, in a mixing bowl, combine flour, baking powder, nutmeg and remaining sugar and salt. Add milk; stir just until mixed. (Dough will be very thick.) Drop by tablespoonfuls into six mounds onto hot blackberry mixture cover tightly and simmer for 15 minutes or until a toothpick inserted in a dumpling comes out clean. Spoon in-to serving dishes. Serve with cream or whipped cream if desired.

Apple Dumplings

Ingredients :

1 pastry for 2-crust pie

Syrup Ingredients:

1 cup granulated white sugar
2 cups water
3 Tablespoons butter (softened)
1/4 teaspoon cinnamon
1/4 teaspoon nutmeg


Filling Ingredients:

6 apples (peeled and cored)
1/2 cup granulated white sugar
1 1/2 teaspoons cinnamon
1 1/2 teaspoons nutmeg
2 Tablespoons butter (softened)

Directions:

1. Roll pastry slightly less than 1/8" thick. Cut into 7" squares.

2. Bring syrup ingredients to boil. Boil 3 minutes.

3. Put apple on center of each pastry square. Fill with mixture of sugar, cinnamon, nutmeg. Dot each with teaspoon of butter.

4. Bring points of pastry up over apple and overlap.

5. Place a few inches apart in baking pan. Pour 1 cup hot syrup mixture around dumplings.

6. Bake at 425 degrees F for 45 minutes. Just before serving pour rest of warm syrup over dumplings and serve with cream.

Corn Meal Dumplings

1 cup of cornmeal
1/4 cup of flour
1 teaspoon of baking powder
1/2 teaspoon of salt
2 eggs
1/2 cup of milk

Combine dry ingredients. Add eggs and milk. Stir in 1 tablespoon melted butter. Drop batter from spoon into soup beans or pan of stock. Cover and simmer 15 minutes. Remove at once





Polish Pierogi

Dough:
4 cups of flour, sifted
1 egg
1/2 tsp. salt
1 cup of milk or water

Sauerkraut Filling:
1 lg. can of sauerkraut
1 med. onion, diced
4 slices bacon or salt pork, diced

Potato and farmer cheese filling:
5 or 6 med. potatoes
1/2 stick butter
1 med. onion, diced
1 - 1 1/2 lbs farmers cheesemay use other cheese) but farmer's cheese is more traditional.

Dough: Mix egg, salt and milk or water gradually adding flour while stirring to form stiff dough. Turn onto floured board and knead as for bread. Roll dough into ball, place into plastic bag in refrigerator to chill while filling is being prepared.

Fillings:

Sauerkraut: Place sauerkraut in pan, cover with water and bring to a boil. Simmer for 5 minutes, drain, rinse and squeeze out all the water. Place sauerkraut, onion and bacon or salt pork in a frying pan. Fry until browned adding a little oil if bacon is lean, set aside to cool.

Potato and Farmer's Cheese Filling: Prepare potatoes as for mashed potatoes. In separate pan while potatoes cook sauté onion with butter until tender. To prepared potatoes stir in onion mixture and farmers cheese, blend well.
Roll dough 1/2 at a time on floured board. Cut into circles with a glass or doughnut cutter. Roll each circle again maintaining circle shape to approximately 1/2 its size again. Place filling in each circle enough so that it can be folded in half without overflowing. Travel around edge on both sides with a fork or use your fingers to crimp and seal. Drop into simmering water until each pierogi floats. Place in refrigerator or container in freezer until ready to serve.

Serving Suggestions: Pierogies may be boiled or lightly fried in butter and topped with your choice of caramelized onions, cut up kielbasa, crumbled bacon. Cabbage and or beets make a wonderful side dish.
Some people even enjoy them with a splash of vinegar!