Peter's lovely Violet, enjoying life in Texas
International Recipe Exchange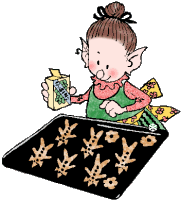 Traditional Polish Recipes

Polish Chrusciki

(Polish Cookies known as angel wings)

2 eggs
2 tbls powder sugar
1/2 tsp salt
1 tbls rum, brandy, or vodka
3 egg yolks
12-4 tbls sour cream or sweet cream
1 tsp vanilla
1 cup plus 2 tbls flour

Powder sugar for dusting

Make a well in flour. Break eggs and egg yolks into well. With a knife, swish around. Add sugar, salt, sour cream (or sweet cream). Cut with knife and add "spirits." Add flour until good consistency. Dough will be real soft.

Roll out dough to 1/8" inch thickness. Cut with knife in strips approximately 2"-3" wide and 3"-4" long. Cut a slit into each strip and bring one end through slit and pull. Deep fry in hot oil (approx 350 degrees) until golden brown. Drain on paper towel and sprinkle w/powder sugar. (Hint-put a few thick slices of potato into grease to keep the oil from burning).


Polish Noodle Casserole

Ingredients:




1/2 lb cooked and drained noodles,

2/3 cup sour cream,

2/3 cup cottage cheese,

2 tablespoons minced onion,

2 tablespoons salt,

1/2 teaspoon powdered mustard, and

1/4 teaspoon white ground pepper.

Instructions:


Place: Cooked and drained noodles in a buttered 1 quart casserole dish.

Mix: Sour cream, cottage cheese, minced onion, salt, powdered mustard, and white ground pepper. Mix the above with the noodles in the casserole dish.

Bake in a preheated 350 F. oven for 25 minutes. (The noodles on top should begin to brown.) To be a bit more fancy, when the 25 minutes is over, pull the casserole out of the oven, smear it with a bit of butter, and allow it to cook another 5 to 10 minutes. To be even more fancy, sprinkle some parmesan cheese on top of the butter before putting the casserole back into the oven.

Polish Kapusta Soup

Ingredients:

10 cups cabbage; shredded
2 onions; finely chopped
1/2 teaspoon white pepper
6 cups water
1 1/2 lb beef chuck; cut into serving pieces
15 oz cans tomato sauce
8 red potatoes; small; peeled and diced
2 tablespoons sugar
2 garlic cloves; chopped fine or
1/4 teaspoon garlic powder

Instructions:
Place cabbage, onions, pepper and water in a large soup kettle; cover, heat to boiling. Add beef and tomato sauce; cover and heat to boiling. Lower heat; simmer for 1 hour. Add potatoes, simmer 1 hour or until meat is tender. Add sugar and garlic; stir thoroughly to mix well. Serve.
Send us your favorite family recipes (Polish and/other countries) and we will upload them !
Just click on the following graphic !

ponbreeders/internationalrecipes/faq/digestiveupsets/pondiet/herding/committee/ponhoroscopes