Polish Lowland Sheepdog - pons - pon the dog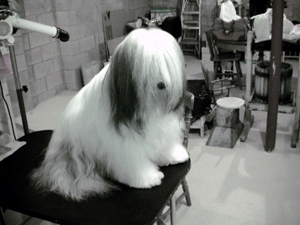 Ch. Bogdanka King Stanislas Posy O'Pirc CGC, TDI
"Stash"
Owners: Tom and Diane Pirc
PON Horoscopes for May
Which Astrological Sign belongs to your PON ?
Capricorn PON
(Born between December 22nd - January 19th) Increased flea population requires you to take additional preventive measures this year. If you use herbal flea protection, you need to apply the formula on an hourly basis for complete protection. Be careful of ticks as well because global warming is creating a welcoming environment for them.
Aquarius PON (Born between January 20th - February 18th) Zany PON - Those inhalant allergies have become more severe and you need to be sure and clean out air vents, brush that PON coat after walks and restrict out door activities during warm weather months. Your PON may feel put off if he can't run around as much in your yard, but he/she will feel better indoors this allergy season.
Pisces PON (Born between February 19th - March 20th) You have a chance to rescue a PON and need to step up to the plate. A change of diet may be necessary to help with those gunky ears. Gossip is heating up among owners. Distance yourself as much as possible to avoid conflicts with certain individuals in the breed. Get the facts before taking action.
Aries PON (Born between March 21st - April 19th) Feisty PON -Do your own research when it comes to the health and well being of your PON. Don't rely so heavily on Auntie Wendy. If your PON is overweight you have got to change his/her diet. Avoid heart and joint problems by reducing his weight. Wild rice and green beans together with less kibble will help. Keep updated on the latest food recalls to avoid problems. Join more Yahoo groups on health issues.
Taurus Dog (Born between April 20th - May 20th) Take it easy PON - Establish your own ethics when dealing with dog politics. Don't go with the flow and think for yourself. It's sometimes necessary to make waves. Consider doing online research to keep up with the latest health developments. Someone will contact you about breeding. Do some background checking.
Gemini PON (Born between May 21st - June 20th) Gregarious PON - Are you up-to-date on your PON'S shots ? You may need to make a sudden trip and board your PON. Always be prepared for emergencies. Keep informed of recent changes in health policies. You will get a phone call about your opinion of rescue operations. Be truthful and speak your mind.
Cancer PON (Born between June 21st - 21st July) Family PON - Your PON would appreciate playing with another PON and you should consider volunteering to take in a rescue PON. Contact your respective breed club rescue and place your name on their list. Keep contacting them every few months to find out about new rescue PONS. Look at Petfinder on the net to see if there are available PONS for adoption.
Leo PON (Born between July 22nd - August 22nd) Proud PON - It's time to get new brushes for your PON and when you visit that local store, look around at the latest grooming products. You may be pleasantly surprised at what is now on the market. Have you recently checked your PON's eyes ? Every PON needs a yearly checkup. Don't delay.
Virgo PON (Born between August 23rd - September 23rd) Working PON - Why not consider having your PON do therapy work ? Check with local organizations to find out how you can volunteer your PON. Therapy is very rewarding for both PONs/owners and patients. Consider how everyone will benefit. Ask your vet to do a temperament test for you.
Libra PON (Born between September 24th - October 22nd) Are you really interested in breeding your PON ? Why not consider becoming active in rescue and help the breed that way. Investigate further into your PON's pedigree and ask around about the health of his/her siblings as well as parents, grandparents, etc. This way, you will know what to expect.
Scorpio PON (Born between October 23rd - November 21st) Someone in your local area will contact you for advice on getting into the breed. Do you know about the welcome committee ? Contact your respective club for further information. Consider becoming a mentor as well. Newcomers to the breed usually need lots of good advice and guidance.
Sagittarius PON (Born between November 22nd - December 21st) Adventurous PON - Be careful with innocent PON adventures which may lead to health issues. How often do you check your PON'S paws after an outdoor trip ?? You may be in for some surprises.
ponbreeders/internationalrecipes/faq/bravenewworld/naturalflearepellent/georgepackard /ponhoroscopes/rescueupdate