Polish Lowland Sheepdog - pons - pon the dog
Sir and Keeper are living Happily Ever After - update on rescue PONS

Sir in Arizona: enjoying his new life !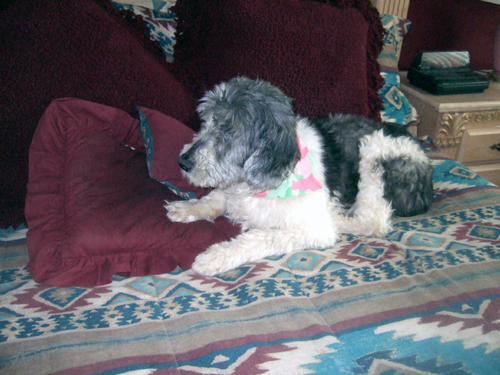 Living the good life - lots of love, good food and healthcare !
Arizona is a dream come true for Sir !
As you can see the sadness is gone from his eyes and he has gained weight and has learned what it is like to be loved and to lounge on the bed.

Sir has been neutered and had a dental. His teeth look very nice now and he only lost a couple. The cyst was removed from his neck and all has healed beautifully.

A big thank you to Joyce Van Kirk for her love and dedication !
"He's a Keeper"
Keeper's new life with Maggie Keats, her father, Richard, and Jackson, the PON in Sands Point, NY
| | | |
| --- | --- | --- |
| | Keeper is a Beardie/OES/PON mix that Merrilee Finch-Cirtwell rescued from the Pensacola area, March 15th. A grateful thank you goes out to Merrilee for her rescue and a joyful thank you to Maggie Keats for adopting Keeper and offering him a chance to start life over again in her loving home. | |
ponbreeders/internationalrecipes/faq/bravenewworld/naturalflearepellent/georgepackard /ponhoroscopes/rescueupdate