CHICKEN BREASTS MILANO

-------- ------------ --------------------------------
8 Whole chicken breasts, split
1/2 c Olive or vegetable oil
1/2 c Dry white wine
2 Cloves garlic, crushed
1 t Fresh Italian parsley,
-chopped
1 t Dried leaf oregano, crumbled
Salt
Pepper
1/8 ts Crushed red-pepper flakes
-(or more)
1/3 c Parmesan cheese, grated
Fresh spinach leaves,
-steamed
Hot cooked rice
Red bell pepper strips

Mix oil, wine, garlic, parsley, oregano, salt and pepper (to taste).
Marinate chicken in a shallow pan, covered, for several hours or overnight.
Remove chicken and reserve marinade. Place breasts, skin- side up in 1 or
2 roasting pans; do not crowd. Brush with part of reserved marinade. Bake
in 375 F oven, basting occasionally with marinade, for 40 minutes until
skin is crisp. Sprinkle part of Parmesan over the chicken and return to
oven just until Parmesan begins to turn golden. Line a warm platter with
steamed spinach leaves, then with rice. Arrange chicken breasts on top and
sprinkle with remaining Parmesan cheese. Garnish with red pepper strips.
(NOTE: Chicken breasts can be grilled about 4 inches from coals for 20
minutes, turning and basting with marinade until chicken is golden.)

Makes 8 servings.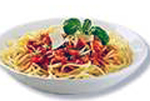 Cannellini with Dried Tomatoes and Herbs


-------- ------------ --------------------------------
1 onion -- diced
5 cloves garlic -- chopped
2 c vegetable broth
6 sun-dried tomatoes -- slivered
2 cans cannellini beans -- rinsed and drained
5 leaves fresh basil -- slivered
10 leaves fresh sage -- slivered
fresh ground pepper -- to taste

Saute onion and garlic in some broth until softened. Add remaining broth and
other ingredients and heat through. Serve over grain of choice.
Serves four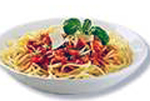 Penne With Vodka & Tomato Cream Sauce

-------- ------------ --------------------------------
1 tablespoon Butter
1 tablespoon Olive oil
1 Onion -- chopped
1 28 ounce Can Italian plum tomatoes
1 cup Heavy cream
1/4 cup Vodka
1/4 teaspoon Dried crushed red pepper
1 pound Penne pasta
1/4 cup Parmesan -- freshly grated
1 tablespoon Fresh chives -- minced

Drain, seed and chop the tomatoes. Melt butter with oil in heavy large saucepan
over medium heat. Add onion and saute until translucent, about 5 minutes.
Add tomatoes and cook until almost no liquid remains in pan, stirring
frequently, about 25 minutes. Add cream, vodka and red pepper and boil until
thickened to sauce consistency, about 25 minutes. Season to taste with salt and
pepper. (Sauce can be prepared 1 day ahead. Cover and refrigerate.) Cook pasta
in large pot of boiling salted water until just tender but still firm to bite,
stirring occasionally. Drain well.
Transfer to a large bowl. Bring sauce to a simmer.
Pour over pasta and toss well. Sprinkle with Parmesan and chives and serve. Serves four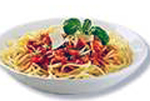 Baked Ziti and Vegetables


-------- ------------ --------------------------------
16 ounces macaroni -- ziti or penne
2 medium Green peppers
2 medium Carrots
2 medium Celery stalks
1 medium Onion
1 teaspoon Salad oil
28 ounces tomatoes, canned -- crushed
3 cups tomato juice -- or vegetable juice
1 tablespoon Sugar
1 1/2 teaspoons Salt
1/2 teaspoon Oregano
6 ounces mozzarella cheese, part skim milk -- shredded
2 tablespoons Parmesan cheese -- grated

In saucepot, prepare ziti as label directs. Meanwhile, cut green peppers,
carrots, celery, and onion into 1/2″ pieces. In nonstick skillet over med.
high heat, in hot salad oil, cook vegetables til lightly browned.
Stir in 1/4C. water; continue cooking over med. heat til vegetables are tender
crisp. Preheat oven to 375 F. Drain ziti in colander;
set aside. To same saucepot, add cooked vegetables; stir in crushed tomatoes,
vegetable juice, sugar, salt, and oregano; over high he
at, heat to boiling. Remove saucepot from heat; stir in cooked ziti. Reserve
3/4 C. shredded mozzarella for topping. Into ziti mixture in saucepot, stir
Parmesan cheese and remaining mozzarella. Spoon mixture into shallow 4 qt.
casserole; sprinkle with reserved mozzarella cheese. Cover casserole and bake
30 minutes or til cheese melts and mixture is hot and bubbly. Serves 8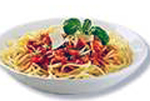 MAMA'S ITALIAN MEATLOAF


-------- ------------ --------------------------------
2 lb Lean ground beef
1 lb Italian sausage
1 1/2 c Cracker crumbs
2 Eggs, beaten
1 md Onion, chopped
1 Bell pepper, chopped
1/2 ts Salt
1/4 ts Pepper
1 t Oregano
1 cl Garlic,minced
1 c Pizza sauce
-----FILLING-----
1/2 lb Boiled ham,sliced thin
8 oz Grated Mozzarella cheese
1 cn (8 oz) mushrooms,drained

Mix first eleven ingredients together.Reserve 1/4 cup pizza sauce. On a
large sheet of wax paper,pat meat into a 10 x 13″ rectangle. Arrange ham on
top of meat mixture,leaving a small margin.Spread mushrooms over
ham.Sprinkle cheese over all.Reserve small amount of cheese.Start at 10″
size and roll meat like a jelly roll.Use wax paper to lift.When rolled
tightly,seal edges.Place seam side down in a 9 x 13″ pan.Brush with
reserved pizza sauce.Bake 1 1/4 hours @ 375 degrees,10 minutes.Before
done,sprinkle reserved cheese over and finish baking.Serves 10 to 12.