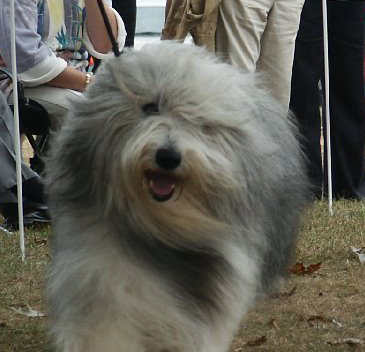 Oscar,owned by Richard and Ann Glazeski, Camden, DE
Make Your Own Natural Flea Repellent

| | | | | |
| --- | --- | --- | --- | --- |
| This European formula is a proven success and PON owners won't use commercial brands after trying this out ! | | Fill a quart size jar with a cup of dried calendula flower heads, leaving room for them to expand and add apple cider vinegar. | | Seal and let sit for two weeks. Then drain the flowers using a cheesecloth. This is your base, which you can dilute with water. |
This solution also works wonders on hot-spots and is a good general skin tonic ! Use naturally fermented apple cider vinegar with "mother" for best results. In addition, this solution may also be use to clean ears and has a nice cooling effect which will make your PON feel happy !
Alternative Flea Repellent Formulas

Avon Skin So Soft Formulas
Basic formula:
2 oz. of Avon Skin So Soft
1 cup of vinegar
1 cup of water or sage tea (from health food store)
Mix and spray every hour

Alternative Avon Formula
16 oz. of Avon Skin So Soft
5 Tablespoons eucalyptus oil
Add enough vinegar to make up one gallon
Mix and spray every hour

Combo Formula
2 cups of apple cider vinegar
2 cups of cool sage or chamomile tea
20 drops of eucalyptus, citronella oils
10 drops of lavender, tea tree, cedar oils
2 oz. of Avon Skin So Soft
Please note:

Insect repellents using plant oils such as citronella, soybean, coconut, and
geranium "provided little if any protection," according to Consumer Reports. Vinegar was not mentioned, however European sources have confirmed the effective used of vinegar for flea control. To be sure of complete protection, please spray often (every hour) and pour a small amount of apple cider vinegar into your PON'S drinking water on a regular basis.
ponbreeders/polishculture/faq/multipon/allergymanagement/naturalfleaprevention/evalponpups/ponpolitics