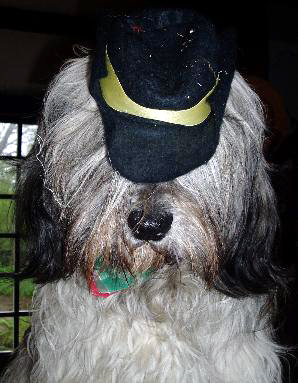 By Bluenn The Niz, in exclusive report
for the review of the NCF At Patrick Le Roux home
(ST Adrien 22)
Howdy Folks !!
The Brittanny moors were being disrupted by a rowdy herd of woolly four-legged bandits , and the Sheriff roped in yours truly and some local guys to bring back some law and order.To impress these wild sheep , mustn't let on that I'm just a beginner! Yo! The Sheriff's deputy wanted it done style, "coolman"…but I said "no way man"...didn't want to find myself smoking any old "weeds" or such like ...or even worse dressed up as a fancy wigged French Marquis..
Those walking wool rugs had some hard times coming !!
Come sunrise , one fine spring day , we set off in the chuck-wagon..."Hey Ho! Silver…Let's go get them!"
When we arrived, the cavalry was already there.
For the reinforcements, you have from left to the right on the photograph: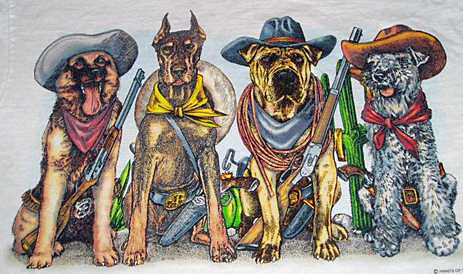 !!!! A little rigour in page-setting, please....
Good I begin again, from left to the right, you find: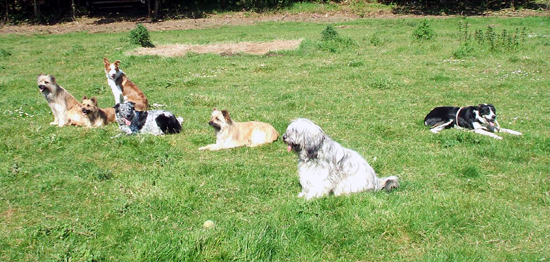 Uros, Sampa, Vévé, Vale, Ustelle, Bluenn, Arnaque
Well right away I could see that the situation was pretty desperate and me and the guys got down to some serious work..................
1) Firstly ...to approach these sheep a little trick was needed...I roll myself in their droppings....what a smell !
2) The goal is to know if my instinct of shepherd always exists.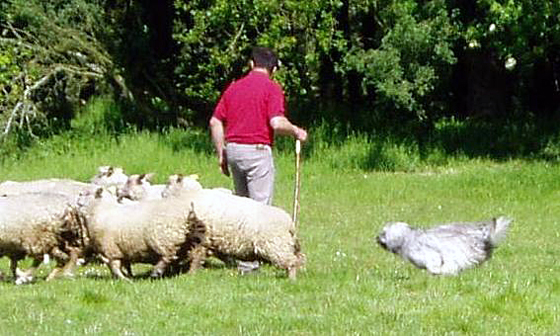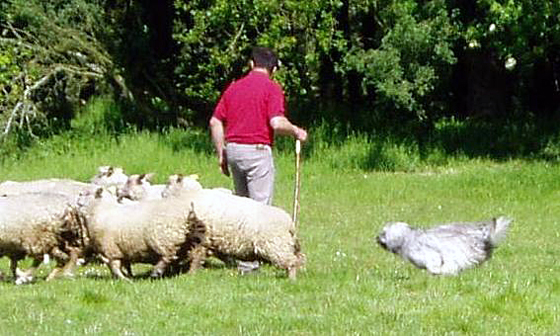 The
Sherif
f saw right away that my herding instinct was evident....Boy! was I interested in those sheep!! To test me , he sent me off to run around. I did
very

good fold back actions, but in a disorganized way.
He was really impressed.

He had me and the other guys working individually 3 times 45 minutes for this first day.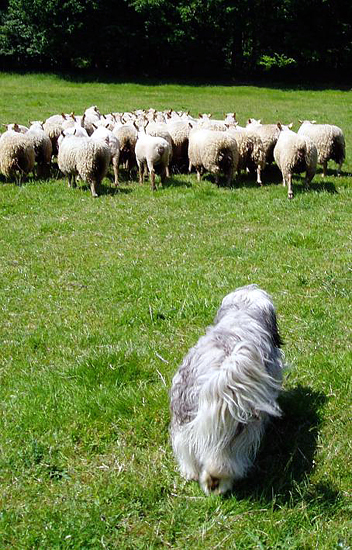 3) Next day , things got more serious. He had me lying down next to the herd of sheep.....and even when they ran off, I had to control my natural instinct and stay put. That was really tough! I am after all a Nizinny!...but at the end of day 2, I could control myself.
4° On the third day...a little going over the previous day's work. Results VERY positive! He lets me accompany the herd because I don't run and split them up....I only run to bring back a stray. I keep them together in a calm and effic
ient manner.
I spontaneously did some very good circling tactics.

Like a true NIZINNY I have learned quickly and well. ..I have a natural herding instinct..no agression at all towards those sheep.
But as Patrick says " one NIZINNY at a time !please!! Two at the same time ...too hard going"!!
It seems he found me a little STUBBORN !!
For those amateurs of sheep work-outs...this
formation is based on the natural psychology of each dog...and by fun and pleasure ..being a real beginner ,I was the only one on a long rope the second day.
I shall certainly continue this formation and will keep you informed of my progress..
Vive les PONS!!!!